Jaw crushers reduce large rocks or ore by means of compression. Mechanical pressure is applied using the crusher's two jaw; one is fixed while the other makes an eccentric movement. There are also primary and secondary types of these crushers. Jaw crushers are one of the most commonly preferred crushers due to their ability to crush all kinds of materials of any hardness, as well as their low-cost operation and easy maintenance.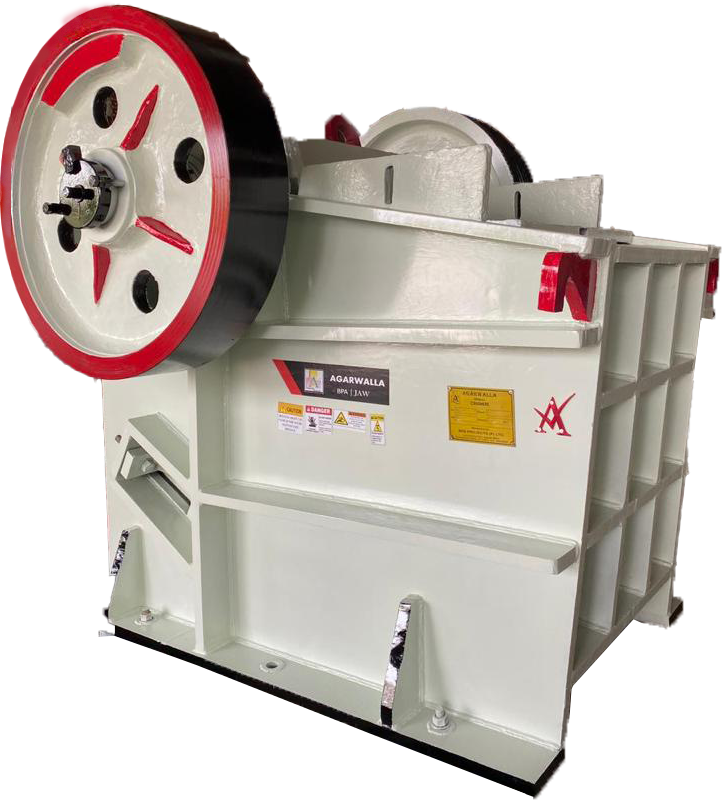 SUCCESS IN EVERY HARDNESS
Wide range of crushing for soft to very hard materials. For various materials, crushing efficiency is increased by different jaw types.
JAW CRUSHER TECHNICAL SPECIFICATIONS
Have a look at our range of jaw crushers with detailed technical data below. Feel free to contact us if you require more specific information or a unique solution for your needs. Our engineers will be happy to assist with your project.
| MACHINE (INCH) | FEED OPENING | MAX. FEED SIZE (MM) | DISCHARGE SETTING(MM) | PRODUCT RANGE(TONS) | SHAFT SPEED(RPM) | REQUIRED H.P. | WEIGHT (KGS) |
| --- | --- | --- | --- | --- | --- | --- | --- |
| 16.10 | 400×250 | 200 | 20 – 50 | 8-25 | 350 | 25 | 3000 |
| 20.10 | 500×250 | 200 | 20 – 50 | 10 -30 | 350 | 30 | 4000 |
| 24.12 | 600×300 | 250 | 20 – 40 | 20-35 | 350 | 40 | 6200 |
| 24.15 | 600X375 | 325 | 50-75 | 30-55 | 300 | 40 | 6700 |
| 30.15 | 750×380 | 300 | 40-75 | 45-70 | 300 | 50 | 7800 |
| 32.22 | 800X550 | 500 | 50-100 | 50-100 | 280 | 60-75 | 11200 |
| 36.08 | 900×200 | 160 | 20-50 | 20-40 | 320 | 40-50 | 9600 |
| 36.28 | 900×700 | 650 | 80-150 | 100-180 | 240 | 100-125 | 18100 |
| 42.8 | 1050×250 | 225 | 20-65 | 30-70 | 320 | 50 | 10000 |
| 42.32 | 1050×800 | 750 | 100-180 | 140-300 | 240 | 125-150 | 22500 |
| 48.8 | 1200×250 | 200 | 20-65 | 35-80 | 320 | 60-75 | 12400 |
| 48×40 | 1200×1000 | 800 | 125-175 | 200-400 | 220 | 150-220 | 35600 |